JOIN US FOR AN INTER-CITY VISIT: TOPEKA AND LINCOLN EXPLORE BOISE!
The Greater Topeka Partnership and the Lincoln Chamber of Commerce are excited to announce a joint intercity visit to Boise, Idaho, scheduled for July 2024. Together, we'll embark on a journey of learning, collaboration, and inspiration!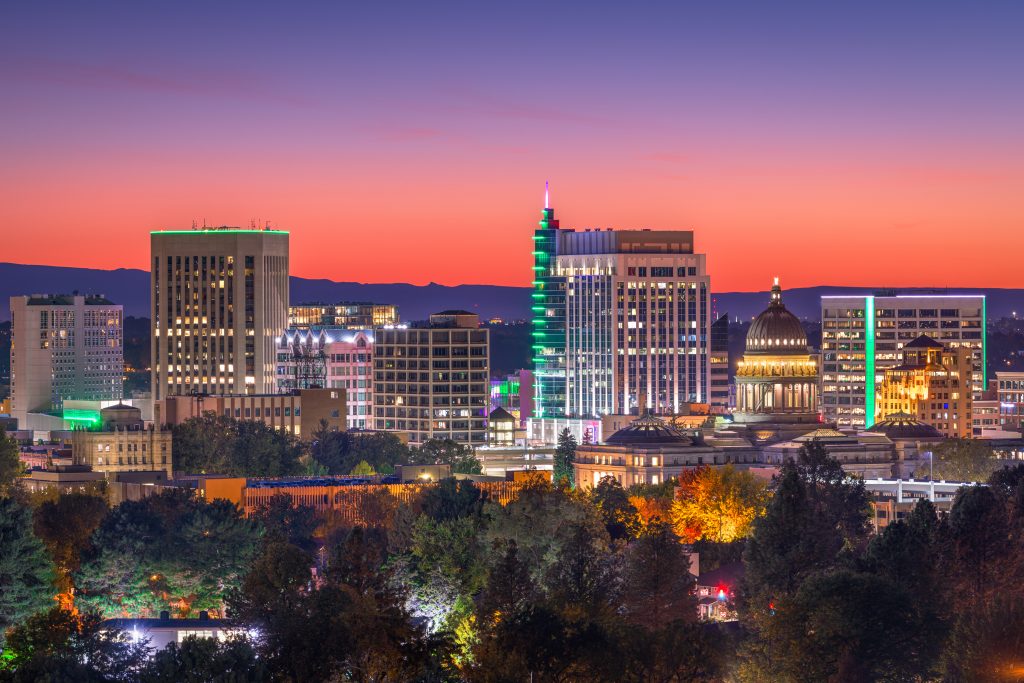 This unique trip aims to unite community leaders, business executives, and passionate stakeholders from Topeka and Lincoln for exclusive opportunities to foster discussion, promote innovative ideas, and inspire learning of best practices for community advancement.
During the 2024 intercity visit taking place July 16-19, representatives from both Lincoln and Topeka will embark on a journey of discovery to learn from one of the fastest growing cities in the country.  Boise, a vibrant and forward-thinking community will offer opportunities for collaboration and learning. Topeka and Lincoln share unique roles as capital cities with Boise. Boise also offers experience as a partnership model, leader in riverfront development, progress in innovation and entrepreneurship, and boasts a thriving downtown and arts district which has been recognized nationally for its placemaking work. By seeing firsthand the accomplishments and effective strategies employed by Boise, leaders from Lincoln and Topeka hope to gain valuable insights that galvanize new opportunities in their local markets.
Building on a Legacy of Learning:
For over 20 years, the Topeka Partnership has been at the forefront of organizing inter-city visits. Our past journeys have taken us to Des Moines, Chattanooga, Montgomery, Fort Collins, Tulsa, and most recently, Northwest Arkansas with Lawrence, Kansas. These trips have been instrumental in spurring creative solutions and fostering collaboration. We are excited to welcome the Lincoln Partnership to this enriching tradition as they embark on their first inter-city visit.
Momentum 2027 and Beyond:
Inter-city visits are a vital part of the ongoing Momentum 2027 initiative—a holistic Topeka community strategy spanning five years. These visits provide a platform to explore successful models and approaches from other communities. We are dedicated to implementing forward-thinking ideas that address our current challenges. Learning from each other's experiences, Topeka, Lincoln and Boise are committed to achieving economic prosperity for all members of our respective communities.
During our visit to Boise, we will engage in dynamic discussions, interactive sessions, and site visits. You'll have the unique opportunity to connect with local elected officials, community leaders, and like-minded individuals from both Topeka and Lincoln. This networking component will encourage collaboration and the exchange of ideas, fostering lasting relationships that transcend geographic boundaries.
Sponsorship opportunities are available to support this impactful initiative. To explore sponsorship options, please reach out to Ashlee Spring.
Stay tuned for updates on ticket pricing and availability. Once we finalize our travel plans, tickets will go on sale, and we anticipate high demand. Don't miss your chance to be part of this transformative experience! In our last two trips, we had the privilege of welcoming over 100 participants, and this time, we aim to build an even more dynamic and diverse group of attendees.
Secure your spot early and be among the select leaders who will shape the future of our communities through this extraordinary inter-city visit!
Join us on this exciting inter-city visit, as Topeka and Lincoln embark on a journey of discovery and inspiration in Boise. Together, let's learn from one another, forge meaningful connections, and propel our communities forward. Stay connected for more updates and get ready for an unforgettable experience!
This trip wouldn't be possible without our sponsors. Please take a moment to thank them for their contributions.
Tuesday – July 16, 2024

Wednesday – July 17, 2024

Thursday – July 18, 2024

Friday – July 19, 2024

About the Greater Topeka Partnership:
The Greater Topeka Partnership is a dynamic organization committed to advancing economic prosperity and enhancing quality of life for all residents in the greater Topeka area. Founding organizations of the GTP are collaborative in nature and include Downtown Topeka Inc., GO Topeka, the Greater Topeka Chamber of Commerce, and Visit Topeka Inc. For more, visit TopekaPartnership.com.
About the Lincoln Chamber of Commerce:
The Lincoln Chamber of Commerce serves as Lincoln's lead business organization championing the city's innovative, bustling business community. The chamber is a convener and collaborator, bringing a variety of voices together to grow the city and move it forward. For more, visit LCOC.com.