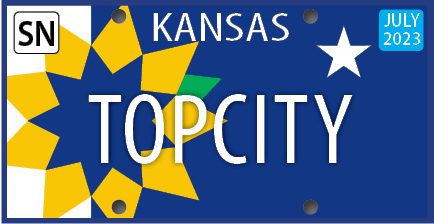 Topeka, KS — The Greater Topeka Partnership and Forge Young Talent are excited to announce the next steps in their collaborative effort to offer Topeka-area residents a new opportunity to showcase their community pride. Starting in 2024, specially designed Topeka flag license plates approved by the State of Kansas will be available for purchase when people renew their vehicle registrations, allowing those with Topeka ties to display their capital city pride wherever they drive.
Area residents eager to secure their Topeka flag license plates can take the first step by expressing their interest via an online form available at TopekaFlagPlate.com. At least 250 signatures will need to be collected in the weeks ahead to reach the interest threshold required for the state to begin producing the new plates, which will be offered at a cost of $50 each. Proceeds from future Topeka flag plate transactions will go toward supporting young professional and talent initiatives — a natural recipient for the funds, given Forge young professionals led the charge in designing and adopting Topeka's current flag design.
"This new Topeka flag license plate is more than just an accessory for vehicles," said Rhett Flood, Forge executive director. "It is a declaration of support for our vibrant city and a sign that Topeka has come a long way in growing our community pride. Residents, now more than ever, are excited about Topeka's growth and future, and we expect to get to 250 signatures quickly. Forge Young Talent is excited to be leading the charge."
"We're thrilled to see Forge and young professionals in our community stepping up to move the needle on community pride in a unique way," said Michelle Cuevas-Stubblefield, The Partnership's senior vice president of strategy. "These license plates not only provide a visual representation of the community vitality and belonging we're working to foster through campaigns like Momentum 2027, but they also give proud Kansans a new opportunity to advocate for Topeka by putting our city's flag on display each and every day."
As the Topeka flag license plate initiative gains momentum, the Greater Topeka Partnership and Forge Young Talent remain dedicated to their shared goal of bolstering Topeka's identity and fostering a community all in the area can be proud of. More information, as well as the license plate interest form and a sample of the plate design, can be found at TopekaFlagPlate.com or by clicking here.