Housing In Topeka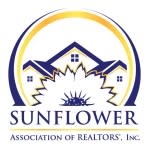 2130 SW 37th St. Topeka, KS 66611 785.267.3215
The Sunflower Association of Realtors maintains the multiple listing service for the Greater Topeka area.  Click their link to go to their MLS site or to find market stats about Topeka.
Nearby Bedroom Communities
Small Town Life
If living in a small town is your dream…you can find the perfect place in the Topeka/Shawnee County area. There are several small towns to choose from, all offering small town living with excellent housing and schools while maintaining access to Topeka's amenities and resources.
Topeka Home Appreciation Rates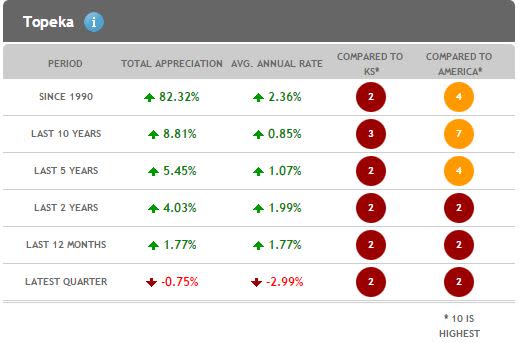 Source: Neighborhoodscout.com
Neighborhoods
You'll find front porches, neighborhood associations, neighborhood improvement associations and friendly neighbors in Topeka and Shawnee County. Across the community, there's pride in neighborhoods and it shows with landscaped yards, neighborhood clean ups, potluck dinners, garden tours and holiday celebrations and parades.
Topeka boasts communities like Oakland, Highland Park and Potwin that were annexed into the city many years ago to newer neighborhoods like Shadywood, Clarion, and MacFarland Farm, and established central city neighborhoods like Westboro, Westwood, Tennessee Town and College Hill. Whether you like historic Victorian homes, sprawling ranches, Tudors peeking out from a canopy of trees or new homes built to the owner's specifications you'll find housing to fit every taste.
Within the city, neighborhood parks and schools abound and help create a sense of community. Just outside the city limits you'll find newer homes, larger lots and opportunity to experience beautiful skylines and sunsets. Topeka…it's a great place to call home!