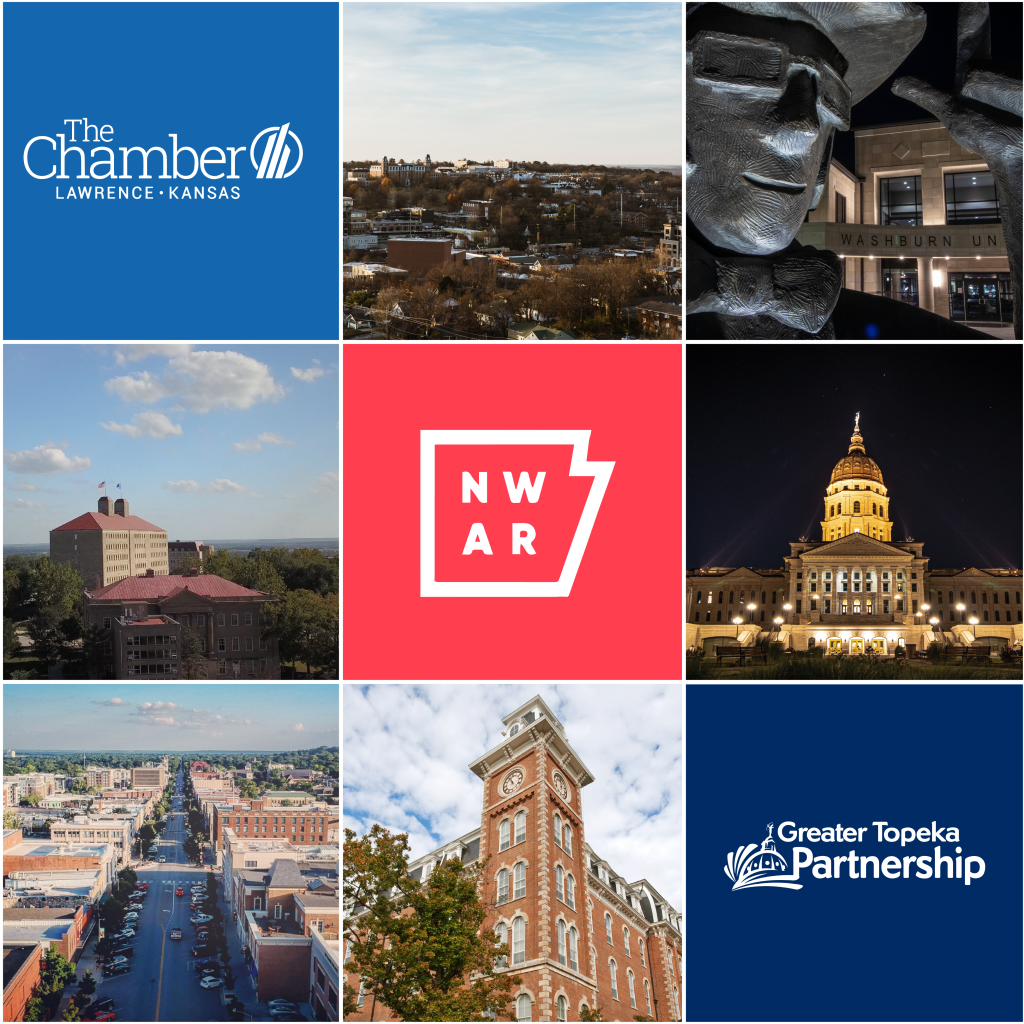 The Greater Topeka Partnership and the Lawrence Chamber of Commerce are partnering to host an inter-city visit to Northwest Arkansas (NWA), a regional collective of Rogers, Springdale, Bentonville and Fayetteville. Titled "Stronger Together: Destination NWA," the visit will allow community leaders from the public, private, educational and nonprofit sectors from Topeka and Lawrence to gain knowledge about innovative ideas and programs from Northwest Arkansas. The visit also provides an opportunity for interaction among city leaders and facilitates the exchange of best practices and lessons learned between the visiting cities and the destination cities. Stronger Together: Destination NWA will take place on April 26-29.
BUY YOUR TICKETS NOW AND JOIN US
Be a part of this collaborative effort between Topeka and Lawrence.
Tuesday – April 26, 2022
Travel Day
1:00 PM – Transportation leaves Topeka / Lawrence
6:00 PM –  Transportation arrives at The Graduate Hotel, Fayettville, AR.
7:00 – 9:00 PM – Cocktail Reception at the Graduate Hotel
Day 1: Wednesday – April 27, 2022
8:00 AM – Breakfast at the Graduate Hotel Ballroom, Fayetteville, AR.
8:30 AM –  Welcome Panel, Northwest Arkansas Chamber Leadership
9:45 AM –  Northwest Arkansas Council Panel
11:00 AM – Load Bus Transportation for Lunch in Bentonville, AR.
11:30 AM –  Lunch at 8th Street Market, Bentonville, AR.
12:00 PM – Local Entrepreneur Shares Business Journey
1:00 PM – Group Separates for Specialized Interest Tracks
1:30 PM – Track 1, Innovation, Entrepreneurship, and Corporate Engagement (Bentonville, AR)
1:30 PM – Track 2, Arts and Placemaking (Rogers, AR)
3:00 PM – All Groups leave for premium networking reception
3:30 – 5:30 PM – Premium Networking Reception
5:30 PM – Transportation leaves for Downtown Bentonville
6:00 PM – Free Time in Downtown Bentonville
7:00 PM –  Dinner Provided at Premium Bentonville Restaurants
8:30 PM – First Bus Returns to Hotel
9:30 PM – Second Bus Returns to Hotel
10:30 PM – Final Bus Returns to Hotel
Day 2: Thursday – April 28, 2022
7:00 – 8:00 AM – Buffet Breakfast at the Graduate Hotel Ballroom, Fayetteville, AR
8:30 AM – Transportation Departs for Springdale, AR.
9:00 AM – Elected Leadership Panel
10:00 AM – Community Revitalization / Diversity and Inclusion
11:30 AM – Transportation Departs to Fayetteville, AR for Lunch.
12:00 PM – Catered Lunch, Fayetteville, AR.
1:30 PM – Transportation Departs for University of Arkansas
2:00 – 3:15 PM – University Panel
3:15 PM – Optional Campus Tour
3:30 PM – First Bus Returns to the Graduate Hotel
4:30 PM – Final Bus Returns to the Graduate Hotel
4:30 – 5:30 PM – Cocktail Hour at the Graduate Hotel
5:30 PM Shuttle Service to Dickson Street Entertainment District, Fayetteville, AR
*Dinner Not Included
Day 3 – Friday, April 29th
7:30 – 8:30 AM – Buffet Breakfast at the Graduate Hotel Ballroom, Fayetteville, AR
8:30 AM – Group Separates for Specialized Interest Tracks
9:00 AM – Track 1, Outdoor Lifestyle and Trail Systems – Kessler Mountain Regional Park
9:00 AM – Track 2, Community Strategy and Health Network Panels – Fayetteville Library
11:00 AM – Transportation Returns to Hotel
11:30 AM – Light Lunch Provided at The Graduate Hotel Ballroom
12:30 PM – Transportation Arrives for Return to Topeka/Lawrence